March 2021
Once again, there's not a whole lot of chapter news this month. We are still in the COVID Red Tier, but there is a chance we'll be moving to Orange soon and meetings can resume. I'll keep you posted. In the mean time, I found a couple of weather related things you might be interested in.
KSBP Weather
We don't get much in the way of weather here and I suspect most of you who aren't professional pilots (or Jim or Todd) have the same three categories of weather that I do; Wow it's nice, I should go flying; I wonder when the fog will burn off so I can fly; and Oh hell no, I'm not going out in that. I put together some links that you might not know about to help you get into the air.
Over the past couple of years many of the aviation products that you have gotten used to have been deprecated. Newer products that take avantage of the graphical capabilities of the web have been introduced. If you haven't already spent time at the Aviation Weather Center, I highly recommend it. The ceiling and winds forecasts are particularly useful to me.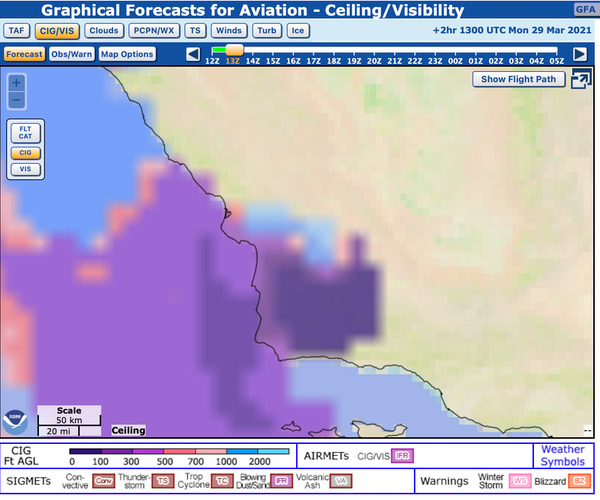 The weather station at the airport has a web page showing the ATIS information over couple of days. (Change the '48' in the link to show more or fewer observations.) It also has hourly, daily, total rainfall for the season.
Those of you in Santa Maria and Paso can also view the weather data for those airports, just change the KSBP in the link to KSMX and KPRB respectively. And as you might have guessed, this works for any airport with weather. You do have to preface the airport code with a K, so Oceano is KL52.
Cal Poly also has a weather station which can be useful when we get the Santa Lucia winds. You can get more than the last 72 hours by changing the 72 to whatever number you want. They recorded almost 9 inches of rain on January 28 so their rain totals for the season are much higher than the airport.
METARs and TAFs
You can get the current METAR and TAF for airports with this link. Like the other weather products, just change the airport identifier.
There is also a page at the Aviation Weather Center that is helpful for those of you who frequently venture outside the local area (Hi Jacob!). You can view METARs or TAFs for wider areas to help with your planning.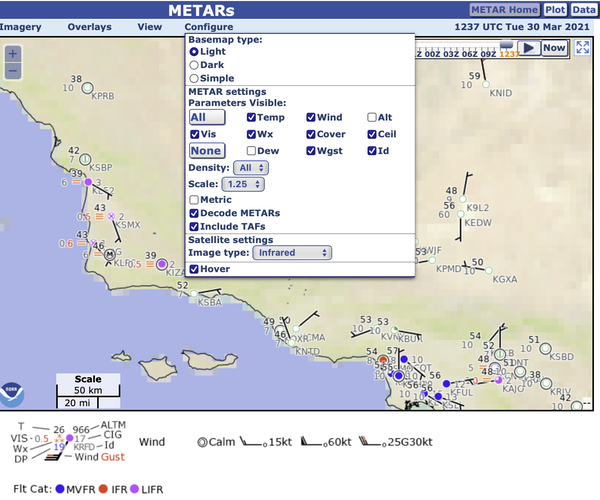 Foreflight
If you are using ForeFlight you may not have noticed that they now have MOS forecasts along with the TAF. These are "Model Output Statistics (MOS) is a type of statistical post-processing, a class of techniques used to improve numerical weather models' ability to forecast by relating model outputs to observational or additional model data." and are easier to read and from my limited use of them, more accurate than the TAF.
John Lindsey's Forecasts
John Lindsey, the PG&E and Tribune meteorologist, sends out an email most days with the weather forecast. You can subscribe to it by sending an email with Subscribe as the subject to PGEWeather@pge.com. It's also a good reference if you are a diver or surfer.
Other Forecasts
The National Weather Service has an hourly graphical forecast that shows winds, fog, and cloud cover. The Weather Underground also has an hourly forecast in a tabular format.
Wind Map
The Earth Wind Map isn't particularly useful to me but it's cool. Note: 850 hPa is about 5,000'. 1000 hPa is about sea level.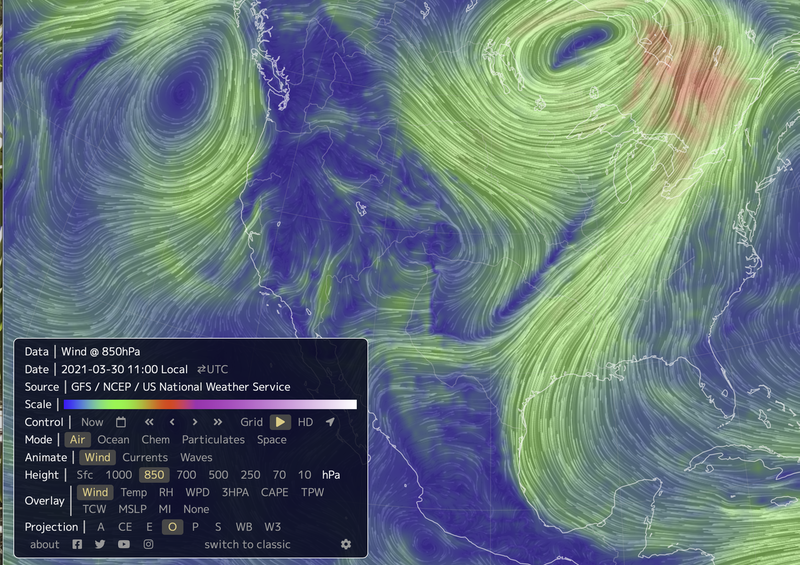 New Members
We have a couple of new CFIs from Sunwest who can't wait to meet you guys. Sam Santos and Logan Stevens are available for Flight Reviews and Safety Pilot duties. They are also interested in starting an IMC group, so let me know if you are interested. Mark Richard and his wife Carol brought their Warrior over from the valley and he is working on his instrument rating while she is working on her private. Dave Shuman and Lu Lambert are retired and interested in getting back into the flying community. Hopefully we'll get to meet you guys soon.
Juvenile Humor
I told him I just had to pee, really bad. I could just jump out and drain my internal tank while they fueled the plane: "Are you guys OK with that?" The translator said, "HET!" NO in Russian.
I said, "I'm not going to pee on the truck and this area of the ramp is so desolate, no one is there to be offended."
In the thick Russian accent, at an increase volume, "HET!"
As we taxied to the parking spot, I asked, slightly annoyed, "why not!?"
The translator replied in a softer Russian tone with no smile on his face, "you pull it out of pant, it freeze before get back in!" Air Facts Journal
Public Service Announcement: Vaccines are available for 50 and older.
Anyone 50 and older can schedule an appointment for the Pfizer COVID vaccine. Starting on April 15, all California residents over the age of 16 will be eligible to get coronavirus vaccinations.
Holders of FAA-issued Airman Medical Certificates or Medical Clearances may receive [all three] COVID-19 vaccine; however, a 48-hour "No Fly/No Safety-Related Duty" interval must be observed after the injection.