January 2021
There's not a whole lot of chapter news this month but I found a couple of things you might be interested in.
Historical Sectionals to waste time on
The Library of Congress has Sectional aeronautical charts going back to at least the thirties. We are on the San Francisco chart and this link will take you to the end of San Diego and the beginning of San Francisco. If you are interested in seeing Los Angeles charts, use this link.
This is part of September 1954 showing three airports in SLO: Cal Poly airport; the current airport, and one in Edna. There are also three airports in Santa Maria and Oceano airport was apparently named Pismo Beach. And surprisingly an airport in Morro Bay.
Someone with more time on their hands than me, put together a list of old airfields in the US. He has pictures and history of the missing ones in SLO county.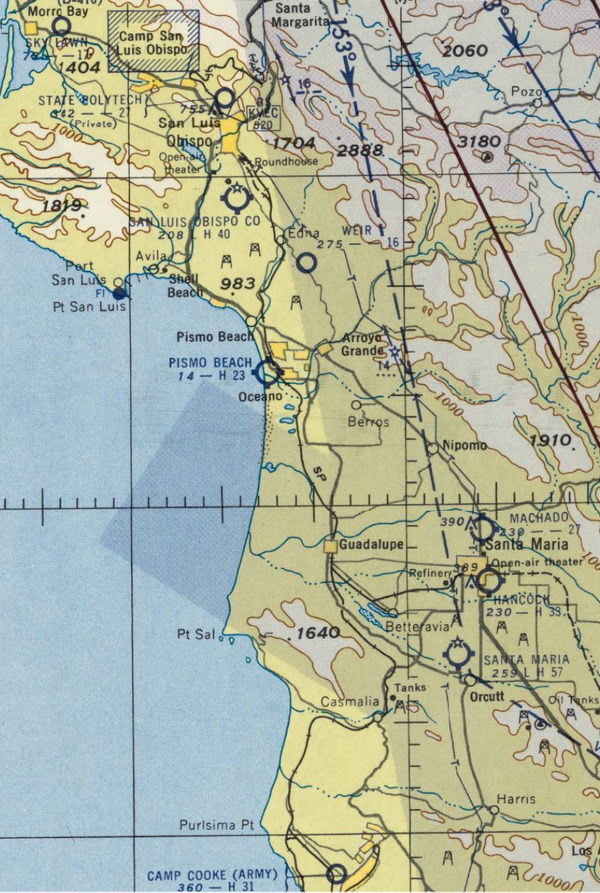 There were no electronic means of navigating directly to SLO but you could get close with the Paso Robles VOR or an amber airway. You can see the 153° radial of the Paso Robles VOR along the right. The magenta line is the side of an amber airway—Amber 8. Amber airways are L/MF airways based on non-directional beacons (NDB) and are identified as green, red, amber, or blue. This one is based on the Santa Barbara NDB (SBA) with a frequency of 350.
By April 1958 the airfield in Morrow Bay was gone, Hancock Field in Santa Maria was gone, Camp Cooke (Army) was tranferred to the newly created Air Force and named Cooke Air Force Base.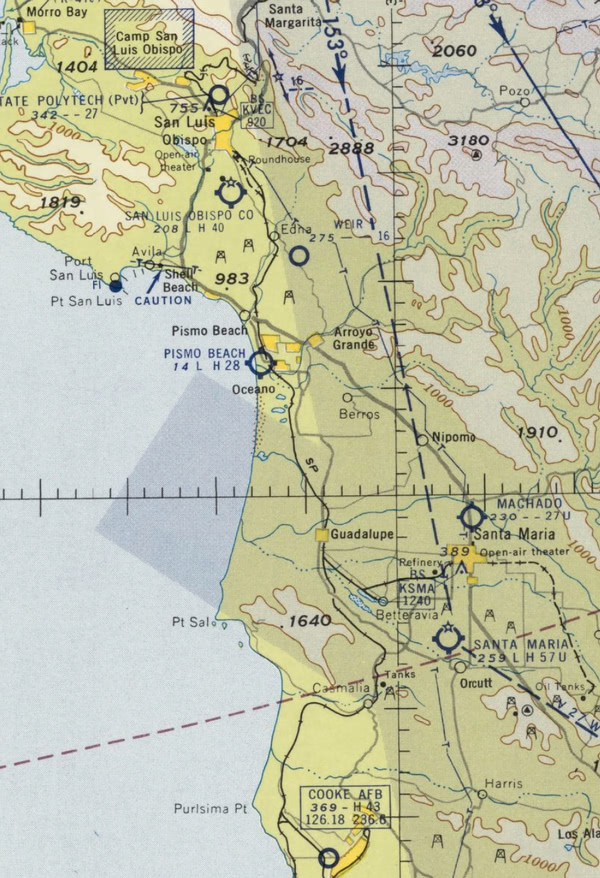 By January of 1967 the sectional has started to resemble our current chart. KSBP won't get a tower until 1988 but there is a VOR at Morro Bay, Vandenberg AFB is on the map along with its restricted areas, Oceano is renamed, and it looks like there is a VOR at where the Guadalupe VOR now sits, and the Gaviota VOR is in service. There are a few NDBs on the map that are long gone.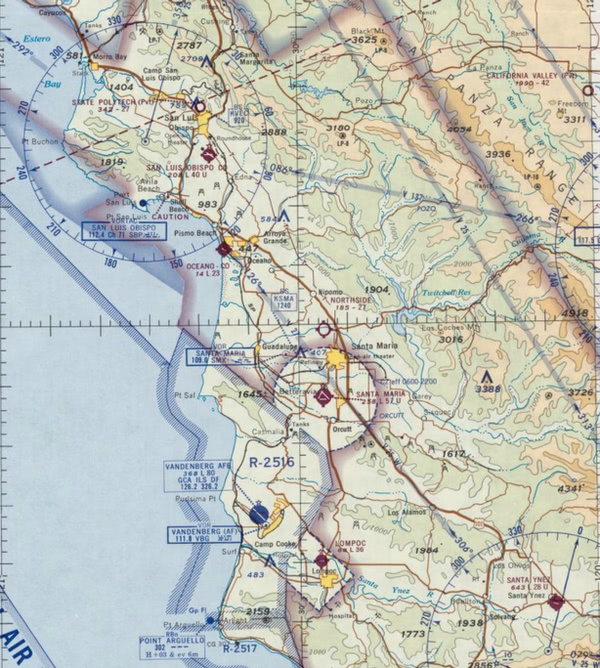 Neal Kollish added this info:
We moved to Santa Maria in 1959 and I can remember seeing Machado field right next to the freeway as it intersected the river. Later, during my many trips to the SLO dump, I remember that you could look just to the east and see Weir field. I think it's been taken over by the dump now but, in any event, someone was killed in an accident there and that seemed to be the end of it. I was at Cal Poly the day a family crashed in a takeoff accident during Poly Royal and that was the end of that one too. The approach was fun as you passed right over the admin building with not a lot of altitude. As a kid, much of the old field at Hancock college was still visible. Today only a few of the old hangars remain. In 1959, one said St. Louis, Mo. which I thought odd until I found out later that it had been used to film a movie about Lindbergh.
More SOFIA news
NASA's flying Stratospheric Observatory for Infrared Astronomy (SOFIA) observatory took images of the Whirlpool Galaxy—M51 that were combined with Hubble images to make this spectacular photo. The magnetic field at the outer edge of M51's disk appears to weave across the arms.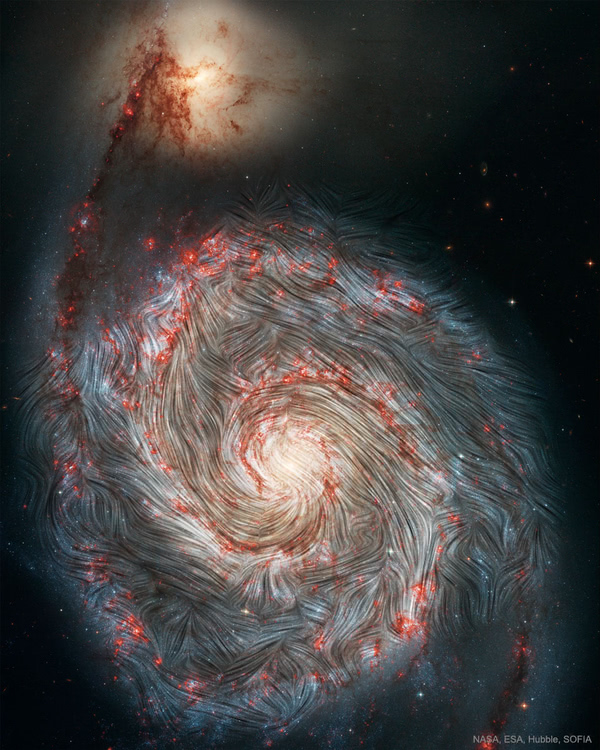 Victor Glover makes his first space walk
NASA Astronauts Michael Hopkins and Victor Glover ventured outside the International Space Station to perform ISS Spacewalk #69.
Public Service Announcement—Old people fall a lot
I was talking with one of our members who took a nasty fall recently and thought that this would be a good time to remind all of us old folks to be extra careful. Especially now that it is rainy and dark. In the last 10 years I spent too much time with neighbors and relatives in the emergency room, waiting for an ambulance to arrive, and in nursing homes after a fall. Turn on the lights when going up and down stairs. Turn on the light when going to the bathroom at night. Don't try to step over running water. Watch out for obstacles in the parking lot. If you are alone, get one of those emergency buttons and keep your cell phone in your pocket. I'm sure that people close to you would rather come pick you up in the middle of the night than find you passed out on the floor when they can't get ahold of you.