November 2020
Sad News Again
A long-time member, Oscar Bayer, passed away on October 22nd. Around the airport Oscar was best know as the builder and pilot of a Starduster but he had a long a varied career. He was active duty from 1943-1946 and 1950-1974 in Korea and Vietnam. After leaving the Army as a Colonel, he flew with the airlines. He talked about his flying career at the September 2018 meeting. He will be missed.


Storage room is always at a premium in the cross-country Too. Most are built with lockers in the headrest and behind the pilot's seat, and the front seat makes a fine baggage compartment if flying solo. But Oscar Bayer one-upped everybody with his fiberglass belly tank storage locker. Extended exhaust pipes are required! Kitplanes
Harry Moyer Flies On His 100th Birthday
You've probably seen Harry Moyer's blue and white Mooney 201 on the west side ramp and even chatted with him as he prepped for a flight. On Friday, October 30 he took off once again, but this time it was on his 100th birthday. Story at KSBY. It wasn't just a stunt for the record books, he flies regularly though he gave up flying IFR a while ago.
AOPA also featured Harry in its November issue.
Harry chatted with us at the May 2016 meeting, Vince captured some photos and details.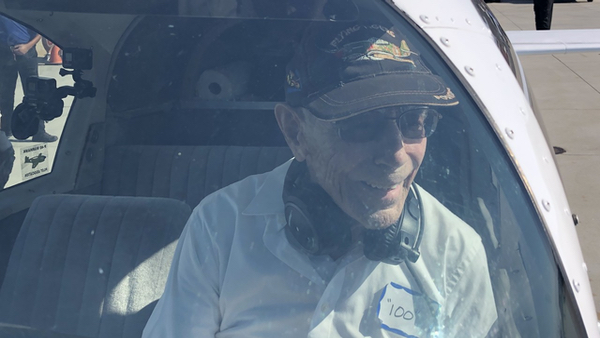 Local Pilot Makes Good
Victor Glover, a Cal Poly engineering alumnus, piloted SpaceX's Crew Dragon spacecraft, which launched Saturday November 14, 2020 from Cape Canaveral, Florida. The spacecraft launched on top of SpaceX's Falcon 9 rocket. Cal Coast News let us know a few days in advance so we could follow along. The NASA site has lots of videos of the launch and docking. The Cal Poly Mustang News website has more about his career and time at Poly.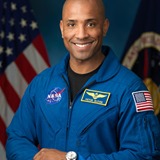 Public Service Announcement—It's Dark Out There
It's been years since I flew passengers at night and even though I won't be flying with passengers for a while, I took advantage of a gorgeous Fall night to get night current. If you haven't done three takeoffs and landings to a full stop one hour after sunset then I highly recommend it. Even though the moon was barely there, there are enough lights on the ground to keep you oriented.